O
n May 31, 2014, Patti and I purchased a new slide in camper so we can be more comfortable at the beach. It's a 2013, 8.5' truck camper with a single slide-out built by one of those northwestern US companies. It has a motorized rear awning as well as a topper awning for the slide-out! It has a 30,000 BTU propane furnace, a propane 3 burner stove and oven, a microwave, a 7 cubic foot, double door refrigerator/freezer, two propane tanks, two batteries, an air conditioner, a 6 gallon propane hot water heater, a 2500 watt Cummins Onan generator, a 19" flat screen TV and all LED lighting, inside and out. The best part is the tanks - this baby has a 49 gallon fresh water tank, a 26 gallon gray water tank and a 22 gallon black water tank - makes a four night stay much easier.
Power Rear Awning with Nitrogen Gas Spring wind safety.
---
Power for the AC and Microwave!
---
Six foot basement "Long Stuff" storage drawer...
---
New Happi-Jack motorized stabilizer jacks...
---
Bright and spacious, for a short bed camper!
---
19 inch TV, microwave and propane oven are new to us.
---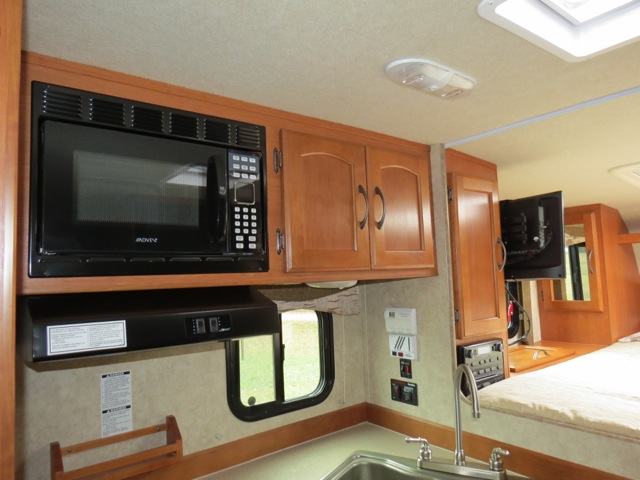 Patti will have to do some packing as the new appliances have used former cabinet space!
---
If nothing else, DVD Movies on rainy days...
---
Beautiful, clear Heki skylight with screen and blind
---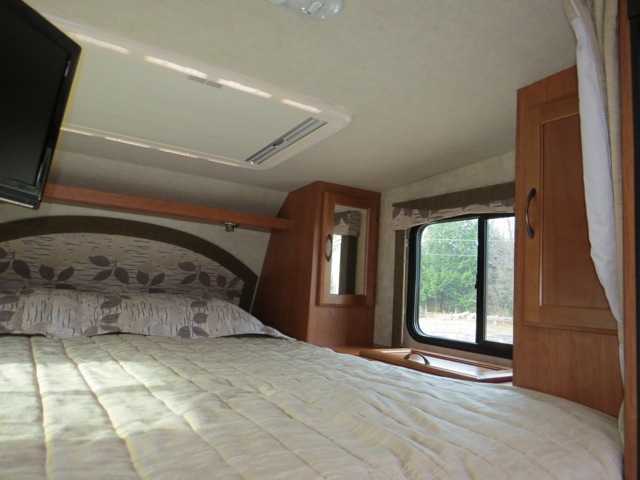 Cabinets, hamper and nice big windows...
---
Seven cubic foot, double door Dometic refrigerator/freezer...
---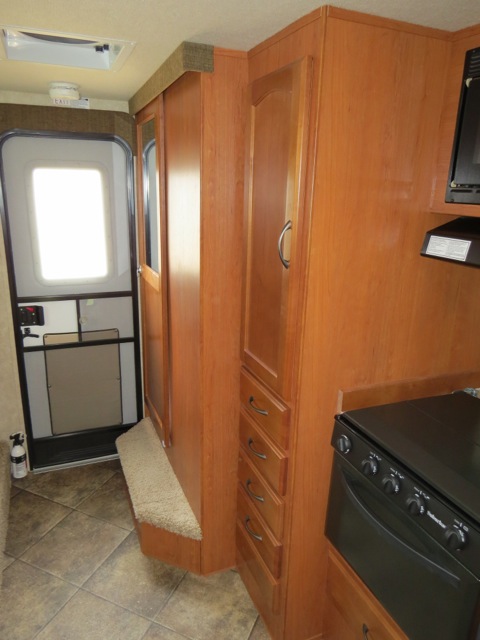 From one drawer in the Lance to four here... the panel below the drawers houses my 2000 watt inverter.
---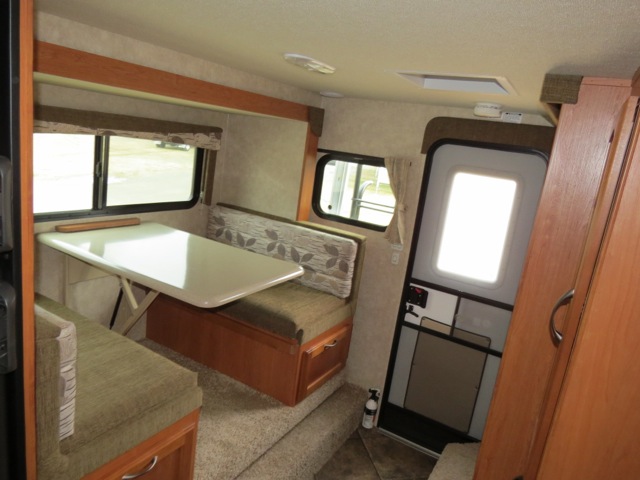 Dinette table and benches are very nice! Nice wide entry door too...
---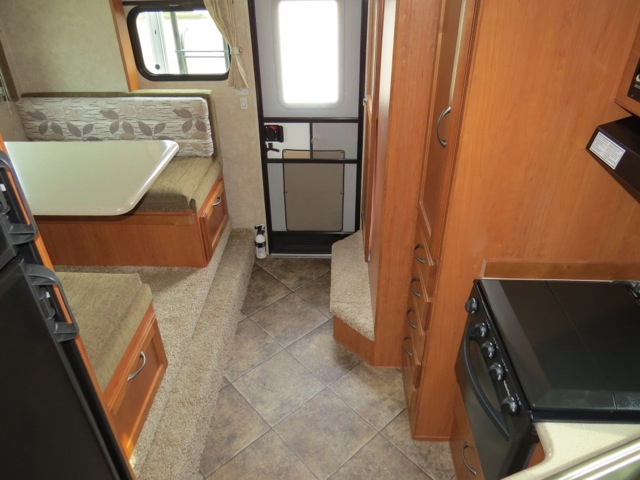 Floor space... YES!
---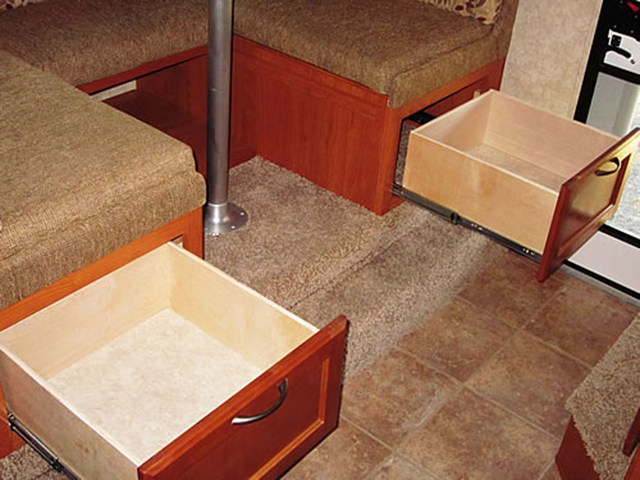 Large storage drawers under dinette benches...
---
Roomier than our old Lance unit...
---
??? - Bath is roomier but sink leaves a bit to be desired!
---
Huge skylight and a vent with a fan... nice touch!
---
On Friday, June 13th, Patti and I picked her up after having the solar panel installed and wired! Here's some pics from that part of the journey
---
Fantastic Fan and Bathroom Skylight and Vent
---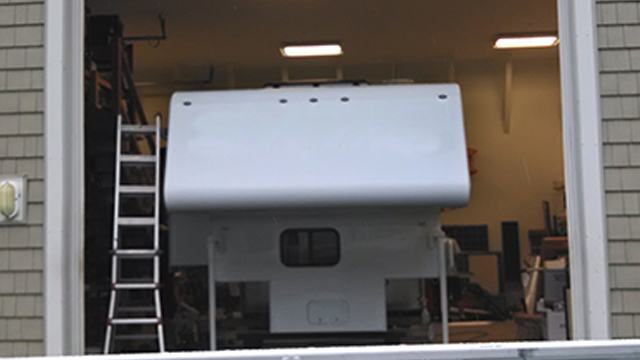 Just about to start the Solar Panel installation at Truck Camper Warehouse
---
Inside where it's nice and dry!
---
Jess moves the 140 watt/7.6 amp Panel into place, then...
---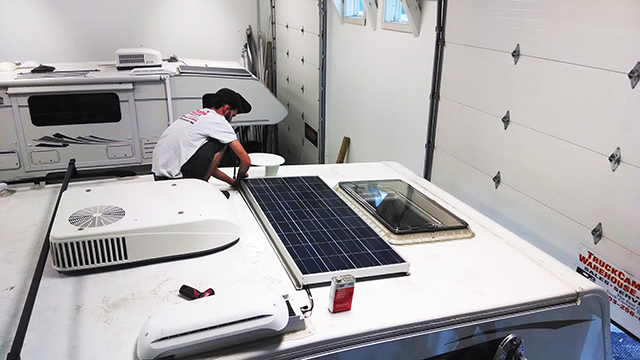 ...screws it down and seals it from the elements.
---
| | |
| --- | --- |
| | |
| One 140 watt, 7.6 amp US Solar panel... that should keep the pair of Trojan Deep Cycle batteries charged! | Patti thinking "Boy that's all he needs is someplace higher to fall from!" |
---
Loaded, tied down and ready to move her outside!
---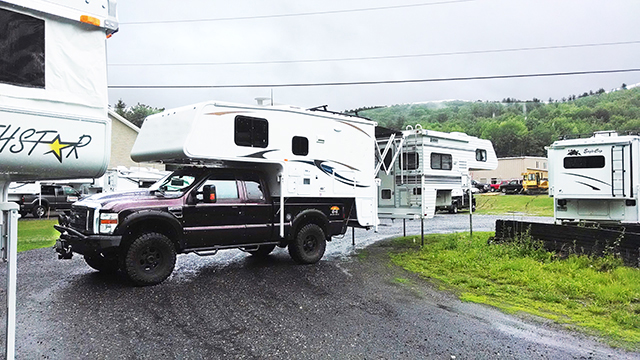 Backed up to the Lance for a mattress swap...
---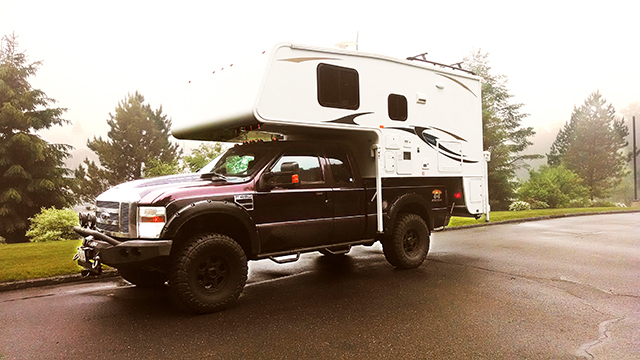 At a Hotel in Gardner after Sean checked it out and headed home.
---
| | |
| --- | --- |
| | |
| I adapted the old flag pole mount... | ...from the Lance's right side! |
---
| | |
| --- | --- |
| | |
| I had clearance problems on the right... | ...with the Generator Door. |
---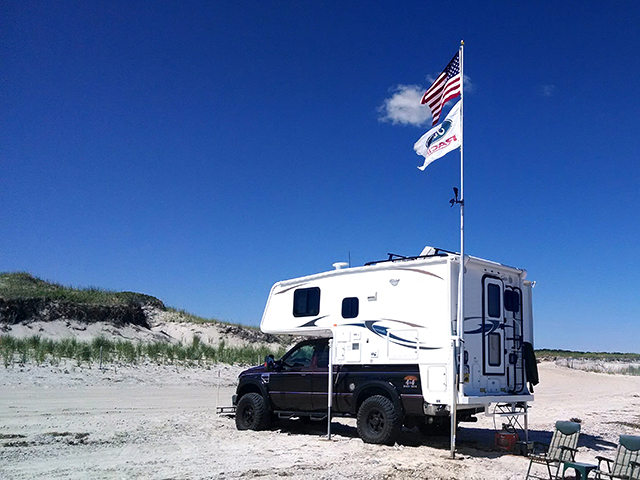 ---
All set up in the Sand, where she belongs!
Flags blowin', sunshine...
---
That new slideout... what a difference it makes!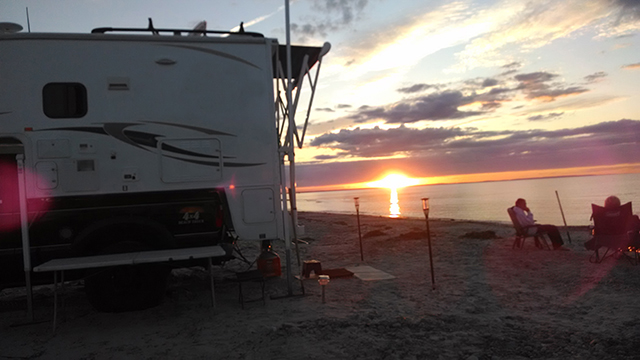 ---
Sunset on the longest day of the year...
---
Michael's Buddy Jim took this from above...
---
---
Patti and I sitting with Cathy Cabbage at Sunset!
---
Awww Man! Sean and I wanted to build one of these!!!
More to Come!