My former Supercharged 2007 Ranger Sport 4X4 - 4.0L V6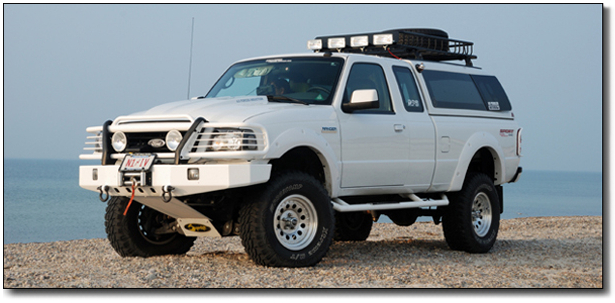 New Cargo Basket and 4 more Hella's!
---
---
My last truck was a 2007 Ford Ranger Sport 4X4 pickup with a Leer 100XL Cap. I had a 4" Superlift kit installed by WC Motorsports & Offroad in Walpole, MA. I also ran a set of BellTech 6400 rear shackles. I replaced the 3" Superlift rear blocks with a pair of Skyjacker Softride 4" lifted leaf springs and had them installed with the original 2" factory blocks and my BellTech Shackles. These leafs offer a little more lift and a much more pleasant ride than the blocks. The ride was further smoothed by four ProComp ES-9000 Nitrogen Gas shocks from Summit Racing!
| | |
| --- | --- |
| For tires, I ran LT285/75R16 (33") ProComp Xtreme M/T's. I had them mounted on my 16x8 American Racing Outlaw II aluminum wheels. The new tires were mounted, balanced and a front end alignment performed by WC Motorsport & Offroad in Walpole, MA. With the Superlift, everything fit neatly under the truck and in the wheel wells with no clearance issues. The increased circumference however, affected the gear ratio. For that reason, Mike and Steve of "WC", installed new 4.10 gears at both ends and a Ford Racing "TrakLock" limited slip carrier in the rear. It pulled nicely now, even with the taller tires. | |
The engine was a SOHC 4.0 V6 with an Eaton M90 Supercharger providing the horsepower. With the assistance of Ron Caster of "Forced Induction by R.P. Caster" of Winchester, CA, I purchased a remanufactured M90 from Supercharger Technologies of Old Towne, FL. I used Ron's kit to mount and adapt the entire system to the existing Ranger 4.0. I then adapted my K&N Cold Air Intake system using the housing of the stock air box as a heat shield.
For exhaust, I opted for a JBA Catback exhaust system, all in stainless steel. Now it was time to fix that factory tune - hello SCT! I purchased an SCT XCalibrator 2 from Rogue Performance with 3 custom normally aspirated tunes. These worked fine before the M90. Dennis Gomes of the Tasca Ford Performance Center in Cranston, RI created a base supercharger dyno tune for the M90. I also worked with Fred from Rogue Performance to refine his new supercharger tunes by datalogging and tweaking via email. Low end torque was the first thing you notice with the M90... wow, what a difference!
Check out individual project page links below...
Winch Bumper project!
Cowl Hood project!
Eaton M90 project!
Updated - 04/27/08
Updated - 06/12/08
Updated 07/06/08
Still need to wire in the Hella's!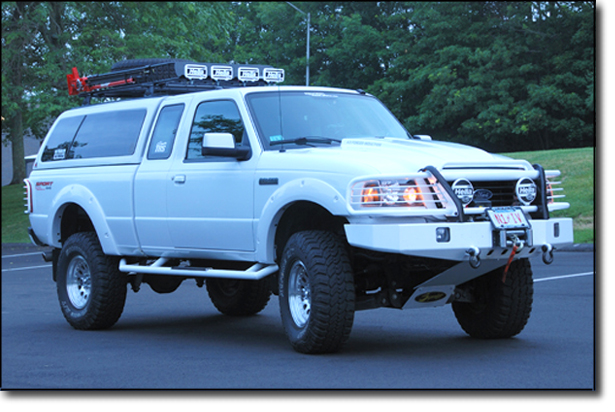 Spare Tire and Hi-Lift Jack are now up on the cargo rack.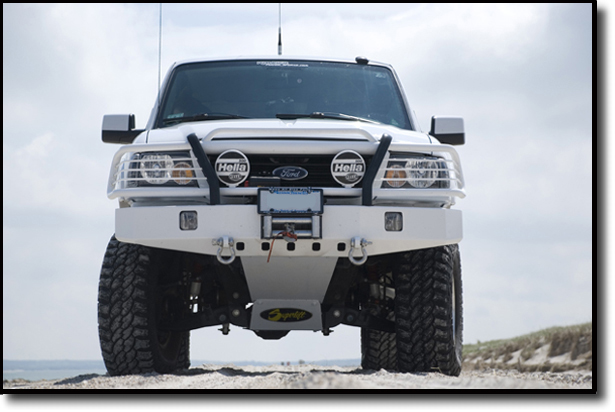 At Sandy Neck with the new bumper & winch installed!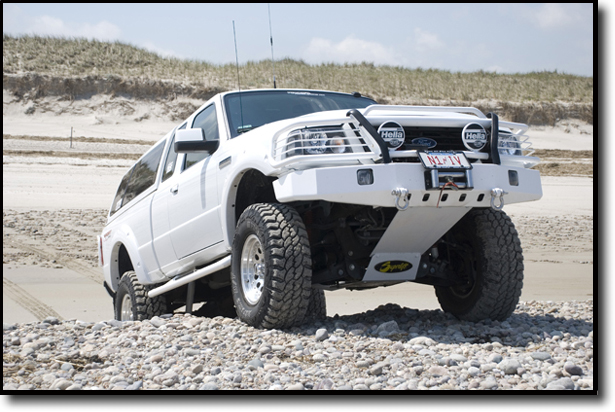 Climbing one of the tidal washes at Sandy Neck!
- Rock Slider Project -
Both Sliders are complete, powdercoated and installed!
I decided, with some assistance from a friend, that we could build our own nerf bar/sliders for a lot less money and have them look the way I wanted. He was right... I purchased two 10 foot lengths of heavy wall steel conduit at Home Depot for about $30.00 and began cutting and welding. My friend and co-worker John Pellegrini, a very accomplished MIG/TIG welder and fabricator, helped me design and fabricate the mounts. I shaped and welded the original bars themselves and brought them to John. We then added a short piece of thin channel to the top of the bars just below the doors. These acted as steps to gain entrance to the truck and avoid a slip hazard on the round pipe. Both bars were completed, powdercoated and installed as well as some black non-slip material for the top of each step!
Gears, Springs, Etc.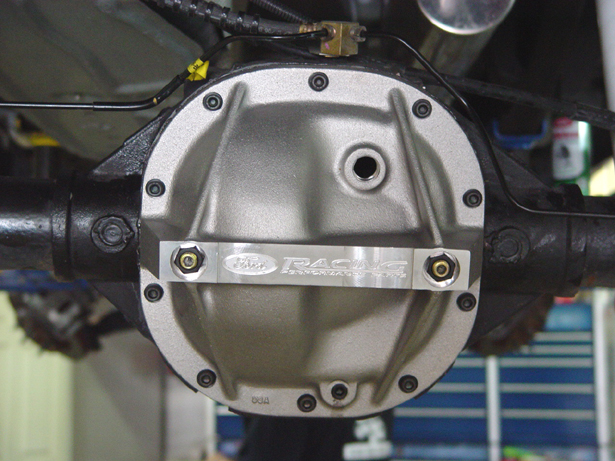 New 4.10 Ford Racing Limited Slip carrier with Ford Racing Girdle cover...
...Skyjacker Softride 4" Lift leaf springs and BellTech 2" shackles...
...expertly installed by WC Motorsport & Offroad!

Questions, comments... suggestions - email us!