- My Photography Collection -
- As the Sun Sets on My 57th Year -
- Sunrises Over Sandy Neck #1 -
- Sunrises Over Sandy Neck #2 -
- Sunrises Over Sandy Neck #3 -
- Sandy Neck from Afar -
- Sandy Neck's Outer Village -
Another View...
- Sandy Neck Village Lighthouse -
- A Tidal Brook -
- What looks Like a Coyote's Den in the Side of the Dune -
- Sunset on the Rocks -
- Textures in the Sand -
- A Nicely Formed Wave... rare at Sandy Neck -
- Scrub Pines in the Dunes -
- Plenty of Rocks at "SN", both Wet Ones...
...and Dry Ones -
- It's Really Quiet in the Dunes -
- Miles of Sand with No Tracks -
- Well, it Can't Last Forever... there are Trails -
- The Dune Vegetation Varies in Color and Texture...
...and Actually Helps the Photographer -
- Barnstable Harbor from Atop a Dune -
- More Color and Contrasting Vegetation -
- "A Sea of Sand" -
- Sandy Neck's Answer to Stonehenge -
- Man Meets Nature... and Properly -
- - Oh My God, is it a...
...Harbor Porpoise? -
"I Love You Man!"... (As we were leaving Sandy Neck, we could see this guy
laying on his back, unable to right himself and the tide was going out...
I flipped him back over and put him back in the Water after this shot.)
- January of 2008 - That's My Ford Ranger in the Distance -
- There she is a little closer -
- A Woman Surrounded by Sandy Neck Sea Gulls... I'll Save you Ma'am -
- Our First Camping Sunset on Sandy Neck Beach -
- A Surfer Catches a Nice One Off Pt Judith Lighthouse in RI-
- A rare Double Rainbow and My Tower -
- As the Sun Sets over the Power Station on The Canal -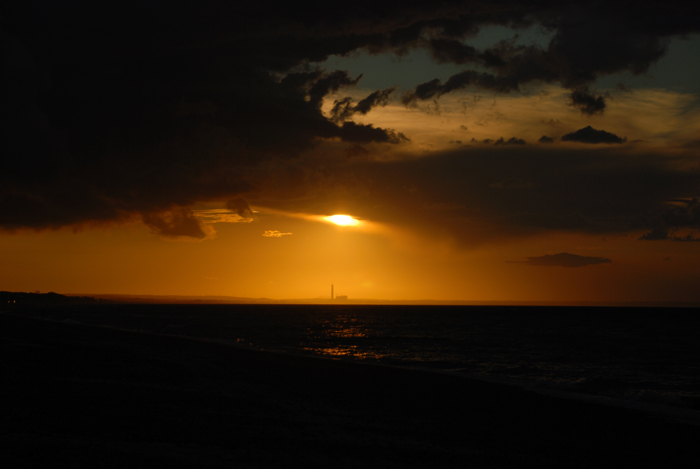 - Same Place, Different Evening -
- This Shot is from the Main Parking Lot -
- Almost Looks Like it's going into the Power Plant -
- A really Different Cloud Formation on this one -
- Sandy Neck Obviously has some Great Sunsets -
- The Sun's Rays Peeking out like Sunbeams from the Clouds -
- This One was rather Scary as was the one below...
...Dark and Eerie -
- This was in 2009 - Looks almost like two Funnel Clouds forming to the left -
- One Final Sunset and I'll Move On -
- Fourth of July at Sandy Neck -
- It's Tough getting the Shutter Speed Correct at Night -
- This Lunar Eclipse was obviously taken on my tripod -
- The East Side of Jordan Lake in North Carolina -
- The Eaton M90 Supercharged 4.0 Liter V6 in My '07 Ranger -
- "Sunset on the Horizon" captured by reflection on the Side of My Ranger -
- My 2008 Ford Super Duty listing Badly... or is it my Camera? -
- One of my First Trips to Sandy Neck with the F250 -
- The New Shoes on my '03 Jeep Grand Cherokee -
- Continued on Page 2 -